With the introduction of search engines, the world of information has changed dramatically. Search engines have provided a way to get to information of every bits and pieces at same place. Infact it's the search engine that has made the world of internet as a pool of information. Anything and everything is available on internet.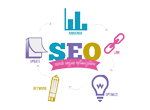 Everyday, thousand's of people are searching for products and services that are provided by you. The question is "are they able to reach to you?". When people do any searches on search engines, its obvious that they are not going to go to the company that appear to them after 20 companies. They will shortlist only the first 20 companies and work with them. Prudent organisations make the best of it by hiring a professional Search Engine Optimization company. Sometimes they set up their own in house Search Engine Optimization team. But in most scenarios, it doesn't help cut the cost.
We, at J's Business Solutions help you to reach to those people who are searching for the products and services provided by you by Search Engine Optimization. We bring your company profile (website) on the top pages of search engines. By doing this, such people will definitely like to work with you.
Keywords Research :
The most crucial step of Search Engine Optimization is Keyword Research. To increase the sales it is important to reach as many people as possible. Google provides 'keyword planner tool' that helps us to reach as many people as possible. In context to Search Engine Optimization, Keywords are what a user types in while searching for products, services, and answers on the search engines. We can short list the keywords that are related to your business. We can study about how many people are searching using those keywords on search engines. Google's keyword planner tool also helps us in understanding the complexity and competition. A set of well planned keywords form a solid base for Search Engine Optimization, thus solid output.
Search Engine Optimization / Google Marketing:
Every month there are lakhs of searches in india for your product and service using various keywords. Now, when individual/group searches for it, they will be going through only those companies listed on the first page of google search engine. Hence your business product/service wont reach people if your website is listed on the later pages. Hence in Search Engine Optimization we try to bring the website on the top of Google rankings. The higher the website ranking, higher the traffic. Higher the traffic, higher the sales. Higher the sales, higher the profit.
Classified Advertising :
Classifieds has become a major source of online advertising and getting good quality leads. Not all of them are aware that it helps in Search Engine Optimization as well. In classifieds, companies can post information and images for their products and offerings according their product classification and target audience. We can update (the existing posts) or add new post as and when we want. These ads can be viewed by the individuals who need their offering. These ads will appear in the respective classified in the category in which we have inserted the data. However it may even appear in Google search and other organic search engines.
Blog Creation, Updation and Promotion :
A blog is information site. Individuals/companies post some relevant content on blogs. Different people come, read it and may even write a review for it. A blog is used for engaging people with the company. Blog links are often shared on various social media sites. For eg., Facebook, LinkedIn, Twitter etc.
Articles & Press Releases Submission:
Article submission is one of the most popular and one of the oldest links building methods. There are websites specially made for submitting articles. Article submission involves a written format of introduction about the product and the submission of article in the relevant article submission websites.