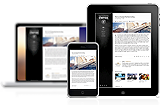 As smartphone and tablet adoption rapidly increases, so does the importance of mobile-friendly websites. Having a mobile–friendly website is becoming essential. We with our team of experts help you create responsive website that are mobile friendly. We also redesign your current website to responsive website. We are known responsive website developer company in mumbai, India and across the globe
Few reasons why responsive website is the best option
One Website, Many Devices – One of the most appealing aspects of responsive web design is that a responsive website can provide a great user-experience across many devices and screen sizes.
Easy Management – It is easy to have just a single website that could work everywhere, Responsive web design technology does exactly this
Recommended By Google – With 67 percent search market share, Google states that responsive web design is its recommended mobile configuration, and even goes so far as to refer to responsive web design as the industry best practice.
If you wish to design a responsive website , please get in touch with us, we will be happy to serve you!