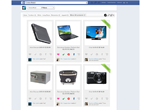 Considering the vast number of users on facebook, a wise businessman would surely like to convert this opportunity into business. But the question is how to sell on facebook?
If you are one of them and would like to sell your products and services right on facebook, then search no more. We will set up your very own facebook online store right on your page.
Selling on Facebook – It's the most coolest thing ever
We are living in a digital world. Social media have made dramatic changes in individual's lifestyle. People share, like and communicate theirs and other's activities. Realizing this, the business is making strong use of social media to get attached to their customers.
However, now is the time to shift from just engagement to direct selling also. Selling on Facebook! We call it Facebook Store
Why sell on Facebook?
Large number of fans and followers are attracted towards your Facebook page. They do activities like share, like, comment and promote your postings, offers, etc. However, that's just engagement part. Ultimately, business is about selling and not just engaging. So, why make them go anywhere else if they like it on Facebook itself. It incorporates best practices to provide enriched features for the following:
Increase your sales by allowing fans to directly buy the product via facebook.
Merchandising and marketing capabilities.
Not just technology but a complete business solutions – technology, logistics, online marketing, customer acquisition, payment processing, etc.
Affordable and easily scalable solutions.
Platform to build and manage your own online store with no IT expertise required.
How it works
Product Showcase Get a customized facebook store. It can be integrated with your existing store or can be completely recreated. In complete recreation, our backend tool(product management module) will help you for uploading products and products related attributes.
Not just selling but marketing, branding Every product will have icons specified below. Users can do various activity on each product. Anything done by fans will be displayed on his/her page which will promote the product to his friends and their friends too – A very effective viral marketing tool
Detailing each product Each product will be associated with its details. Details like pricing, discounts (if any), product description, multiple images, product zoom-in, etc. Integration with other social network sites means promotion not only on Facebook but also on other social networking sites. Fans can comment for any product and the comment will be visible to other fans who visits the product.
Detailed Statistics Gain valuable insights through campaign results analysis, historical data and trends and detailed individual visitors' information. Get insights for Most viewed product, Demographics, Monthly sales / visitor, fans login time.
Facebook Store Features
Manage Catalogue Digitally :
Our digital catalogue tool enables admin to manage the products and its attributes in an organized structural way which is more relevant to website end-users.
Inventory Management :
Our invertory management module helps you manage yout stocks in backend. You can view your available product quantity at any point in time.
Manage Orders Easily :
Order fulfillment if one of the most important thing in ecommerce. Fast, efficient though simple to use process will make retailers live easier in day to day activities.
Promotional Activity :
Every product needs promotion. Our application is designed with features that will allow fans and followers to promote your product. Every product will have icons – love it, like it, want it, have it. Any activity done by fans will be visible on his page to his friend hence reaching all the people in his friends list – a very good viral marketing.
Integration with other social network sites
Google plus, pin interest, twitter, etc are fast catching up with facebook. Hence, marketing on these sites becomes important. Each product will have icons for other social networking sites. This way, the product and the brand name will get promotion on other social sites too.
Facebook Comments
Every fans will have their views on your product. Social networking is all about sharing views. So, we allow fans to share their view on your products and brands.
Security :
Security is the biggest concern for any ecommerce portal. Secured online payment, band-end data access are few of many ecommerce related issues. J's Business Solutions tries to address all the security related issues.
Add-Ons :
This doesn't end here. You can add as many features to your facebook store as you like. For eg, if you have an e-commerce website set up already, we can pick products and category data from your website itself. Want a custom store locator? you got it.